Hardwood Floors in Casselberry, FL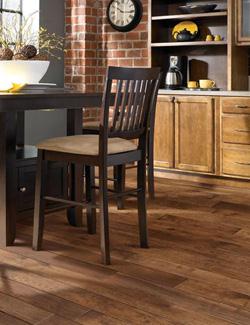 Wood is a naturally beautiful and resilient material. This makes it ideal for flooring. If you have always dreamed of enhancing your home with a classic option like hardwood floors, we can help. As a high-quality flooring store, we offer services and selections unparalleled by the competition. Over our time in business, we have earned a reputation that is respected by homeowners throughout the area.
We ensure our customers feel confident entrusting us with solid or engineered hardwood flooring projects both small and large. When it comes to comprehensive flooring replacements, there's no team you can depend on more than us. The professionals we employ handle the entire process, from selection to hardwood flooring installation with the utmost skill and speed.
Find Hardwood Flooring in a Single Visit
With our team you can look forward to the prospect of shopping for new floors. Take advantage of a selection experience that is easy and stress-free by visiting our showroom. From the moment you walk in the door, it becomes our main priority to ensure you walk away with the hardwood flooring of your dreams.
By taking the time to understand your expectations, our in-store associates are able to point you toward floor fashions sure to satisfy in all respects. No matter what you have in mind in terms of looks, longevity, or even budget, you are sure to find the hardwood floors that impress no matter where they are placed.
The increasing popularity of engineered hardwood means that it is in higher demand than ever before. This is because engineered hardwood flooring is made up of several layers of a plywood-like material. Engineered planks are topped with a veneer of actual wood, meaning they look and feel like traditional solid planks. While solid hardwood is a great choice for most homes, it does not always prove practical in certain spaces.
Because engineered flooring doesn't feature solid pieces of wood, it is less likely to experience problems like warping or swelling when placed in humid areas. This enables you to feel confident placing it in rooms that experience high amounts of moisture, such as the bathroom, kitchen, and basement.
Professional Hardwood Flooring Installation
Getting floors that look great and hold up well far into the future requires more than just choosing a quality product. Quality installation is also necessary to produce the results you desire. We are highly experienced at handling the hardwood flooring installation on your behalf. Backed by an unparalleled warranty and guarantee system, you can feel confident entrusting your installation to our in-house team.
Become familiar with our hardwood flooring services and selections today. Call <PHONE> or utilize the on-page form to get in touch with an associated from our store.
The classic appeal of solid hardwood is stylish, practical, and timeless. Even after decades of popularity, it still remains one of the most coveted flooring fashions in our area. Available in a wide range of appealing stains, species, and finishes, there is a hardwood plank capable of enhancing every aspect of your home. Whether you are interested in a plank that is rustic and trendy or classic and luxurious, you are sure to find the perfect choice among our stunning collections.


Contact us for more information about our 12 month financing plans. We proudly serve Casselberry, Sanford, Apopka, Leesburg, Altamonte Springs, Florida, and beyond.