Shop Our Selection of Flooring in Casselberry, FL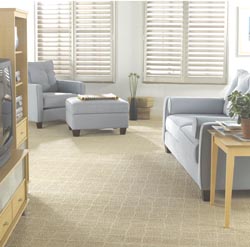 Why drive around town to check out different stores when you can find exactly what you need at one place? With our diverse selection of trusted brands, Flooring America is the place to go for flooring in Casselberry, FL. Our store carries a range of different residential and commercial styles all under one roof, including:
Carpet
Hardwood
Laminate
Luxury Vinyl
Tile
Whether you're shopping for your living room or planning to update the bathrooms at your business, you'll find what you need at our showroom. Visit us today to see and feel our many products in person and find the ideal style for your project.
Get a Recommendation Tailored to You
Some people already know what the perfect floor for their room looks like. Other people don't have a clue. Whatever the case may be for you, the team at our flooring store is here to help.
We're always available to answer your questions and point you towards the floor coverings best suited for your space. Feel free to ask us for a recommendation tailored to your project. We take into consideration your personal tastes, practical needs, and prince rage to narrow your search down to the surfaces that best suit you.
Why We Recommend Professional Installation
Installation makes a big difference in not only how your floor looks but also how well it deals with daily wear and tear. When a surface is put in place improperly, it's more vulnerable to damage, diminishing its longevity. To ensure you get the most value out of your purchase, take advantage of our professional flooring installation services.
Our installers are trained to work with every product we sell, including the styles that are more difficult to install like wood floors and carpet. You can count on our team to work quickly without compromising the quality of the job. In no time at all, your new floor will be ready to enjoy and show off to guests.
Maintenance Matters
Extend your floor's longevity and value even further with routine maintenance. With the right cleaning and upkeep, you can add years of beauty and strength to your floor's lifetime. Talk to our staff to get maintenance advice specific to the flooring brand you chose for your room. We understand that it can be difficult to find information you can trust online, which is why we encourage you to consult with our team members. After all, it's our job to know our surfaces inside and out.

Contact us to learn more about our diverse array of floor coverings. We proudly serve clients from throughout Casselberry, Florida and the surrounding areas, including Sanford, Apopka, Leesburg, and Altamonte Springs, Florida.