Tile Flooring in Casselberry, FL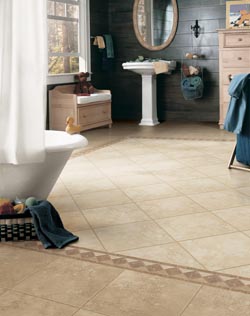 Homeowners no longer have to sacrifice fashion for functionality when it comes to flooring. With so many versatile products now on the market, you are sure to find a product that satisfies in all respects. For active households, we can suggest a stylish and durable option like tile flooring. Our showroom is stocked with many tile collections for you to peruse. Our flooring specialists are also happy to guide you every step of the way—from selection to design to installation.
Add a new surface to your home that's as durable as it is stylish. From sleek and modern, to rich and classic, we offer a wide selection luxurious tile flooring. Our flooring specialists are ready to help you make finding the selection that perfectly matches your sense of style as simple as possible. With designs from high-quality brands such as Design Distinctions and Floorcraft, you can choose from a variety of options for ceramic, porcelain, and slate tile. After deciding which option works best for you, our specialists provide you with professional tile flooring installation to transform the interior of your space into the haven you've always wanted.
Our store is proud to carry a wide range of tile lines, featuring impressive options like porcelain, marble, slate, and ceramic tile. Whether you are concerned about durability or are more interested in style, you can feel confident turning to us for the tile of your dreams. We offer exceptional services and exclusive selections guaranteed to make your upcoming flooring project a breeze.
Choose Ceramic Tile Flooring For Practical Applications
Flooring is the aesthetic foundation of any well-planned interior design. When you invest in your home with high-quality flooring, you deserve to be completely confident in your decision. At our fully stocked flooring showroom, we are host to a handsome selection of ceramic tile options to suit any room, budget or personal taste. From rustic to contemporary, our attractive ceramic patterns offer a world of interior design possibilities to any ambitious homeowner. Renowned for its exceptional resilience, ceramic tile flooring makes a great choice for moisture-prone areas including kitchens and bathroom where the presence of water is abundant.
No homeowner wants to feel limited with the renovations. With an extensive selection of tiles, including materials like porcelain and slate tile, you can count on our keen specialists to provide you with a variety of options that are as fashionable as they are functional. For a durable floor covering that stands up well to substantial amounts of foot traffic and moisture, employ our versatile ceramic flooring in any home environment.
Choose Porcelain Tile Flooring for Lasting Durability
Is your household constantly experiencing high foot traffic? From little ones trips and stumbles in the living room, to adult parties with a large number of guests, your flooring endures a lot over the years. Porcelain tile flooring makes an ideal choice for areas of the home that are frequented most. Made from refined, dense clay fired at high temperatures, porcelain offers lasting performance in even the busiest of households. For a good-looking floor covering that is resistant to stains, scratches, fading, and chipping, look no further than our flooring specialists.
With nearly limitless styles of porcelain flooring to choose from, you can freshen up your space with the look of ceramic or slate tile. No matter how big or small your flooring project may be, you are sure to find the right colors and textures to complete the look and feel of your interior atmosphere.
As a homeowner, the importance of making sound investments in your home can't be understated. Not only is slate tile a long-term investment that adds value to your home, it also provides a soft, smooth texture under foot that's easy to clean and maintain. Slate makes for a refined, versatile tile surface that is dependable in any home environment and low maintenance. To clean your flooring tiles, simply wipe them over with a wet mop or damp cloth and then remove the remainder of the surface dirt with a dry cloth or towel. When you need exception tile flooring that continues to perform and offer lasting appeal, turn to our specialists for premium slate tile selections.
Count On Us for Affordable Prices and Tile Flooring Installation
Investing in professional tile installation is just as important as choosing a quality tile product. This is something we recognize at our flooring business, and it is also why we offer installation services on behalf of clients. Once you've made a confident purchase from our store and showroom, we immediately schedule a time for our in-house installers to visit your home.
Our professionals utilize trusted techniques and technology in order to flawlessly execute the tile flooring installation. We remain so confident in the work of these technicians that we back their efforts with one of the most impressive warranty systems in the industry. One such warranty is the Lifetime Installation Guarantee. Should you experience any installation-related issues over the lifetime of your floors, we provide resolutions at no charge.


Contact us for more information about our 12 month financing plans. We proudly serve homeowners in Casselberry, Sanford, Apopka, Leesburg, and Altamonte Springs, Florida.