Tile Flooring in Casselberry, FL
Give your Casselberry property a distinct look and feel with stylish and waterproof tile flooring!
At Carr's Flooring America, you have everything you need to transform your home or business. As a leading provider of high-end tile floors in Casselberry, FL, we offer a wide range of options that will enhance the aesthetic appeal and strength of your property. With our diverse selection, friendly staff, and personalized approach to service, your tile remodeling project will be a simple and rewarding experience. Visit our tile flooring showroom in Casselberry, Florida, today and take the first step toward your dream floors!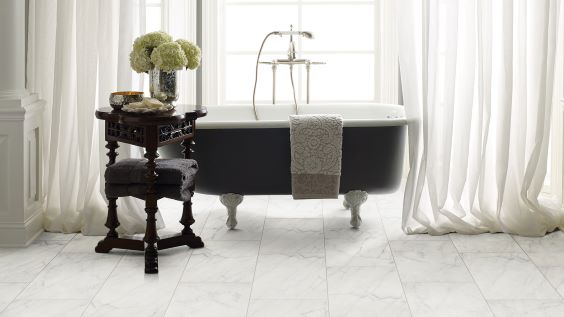 What Styles of Tile Flooring Are Available?
When it comes to tile floors, your design options are virtually limitless!
Choose from different colors, styles, and designs to create a space that is right for you, your friends, and your family. Whether your interior design plans involve a sleek modern appeal, a classic and timeless ambiance, or a fun bold aesthetic, we have tile flooring products that will meet your remodeling goals.
When you shop at Carr's Flooring America, rest assured our all our products are carefully selected for maximum style, durability, and versatility. We have teamed up with well-known tile brands, including Design Distinctions and Floorcraft, to offer an impressive selection of ceramic, porcelain, and slate tile flooring. Popular style include large floors tiles, starting at the following sizes:
24"x48"
32"x32"
48"x96"
48"x118"
Types of Tile Flooring: Ceramic, Porcelain & Stone
All in all, tile floors are a sound choice for your home and are great additions to the kitchen, bathroom, common areas, and bedrooms. We also offer a variety of outdoor tiles, including
Porcelain
Stone
Pavers
Composite decking via Masters by Parkay
Learn more about all of our tile selections below:
Ceramic Tile Flooring
Made from mixtures of clay and other natural materials, ceramic is created through a process of kiln heating followed by cooling. Once cooled, the ceramic can be left untouched or given a glaze finish.
Although most ceramic tile floors are left textured to avoid slipping, wall ceramics are often glazed for a sleek appearance. As heat and water-resistant surfaces, ceramic tile is a popular choice known for its unlimited design possibilities.
Porcelain Tile Flooring
This tile option is made with the same process as ceramic, though the kiln-fired clay has a longer heating time. This results in a denser finish that contains the same vibrancy as its ceramic counterpart.
Stone Tile Flooring
One of the best choices for outdoor flooring, stone tile is tough enough to withstand the natural elements. Indoor use of stone is also common, with slate or travertine as some of our most popular stone selections.
Slate offers an earthy and rich look while travertine naturally looks paler in appearance and is created from limestone.
Wood-Look Tile
It's no secret that solid hardwood isn't the best floor covering to choose for rooms like the bathroom or kitchen. Natural Wood planks can expand and contract when they come in contact with humid environments and standing water.
That's where our selection of wood-look tile flooring comes in. Traditional ceramic and porcelain are now able to mimic the appearance and textures of natural wood. Wood look tile provides you with the protection you need and the appeal you deserve.
In the hands of our expert installation contractor, our wood-look tile is sure to make any ordinary room feel like something extraordinary!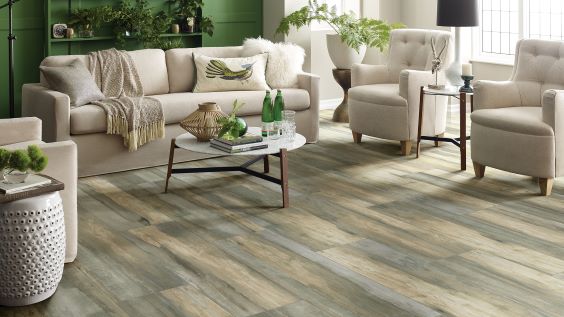 Find Tile For All Types Home Improvement Projects
At Carr's Flooring America, you can find a variety of tiles for more than just flooring. We offer tile for the following types of home remodeling projects:
Hand Cut Mosaic Tiles
Brick Tiles
Custom Floor Arrangements
Accent Walls
Custom Showers
Backsplashes
Outdoor Tile
Fireplaces
Imported Tile Panels From Italy
Why Choose Tile Flooring for My Casselberry Home?
Why make compromises between looks and utility when you can have both with tile flooring?
Tile floors are a smart choice for any Casselberry property for its variety of style and performance benefits, including the following:
Aesthetic appeal: Ceramic, porcelain, and slate tiles offer beautiful and versatile design options for a custom look.
Durability: Resistant to impacts and heavy foot traffic over time.
Stain and spill resistance: Easy cleanup and maintenance, saving time and effort.
Longevity: With proper care, tile flooring maintains its appearance for years.
Eco-friendly: Natural materials that resist mold and mildew, promoting cleaner air.
Energy efficiency: Helps keep your home cool in Casselberry's heat, reducing energy costs.
Waterproof: Prevents warping, cracking, and water damage concerns.
Enjoy Attentive Assistance Throughout Your Tile Flooring Remodel
Our knowledgeable team members are here to ensure your tile flooring project is a complete success.
We are thoroughly experienced in tile flooring, and we stay up-to-date with the latest trends sweeping the interior design world. When you visit our showroom to discuss your remodeling project, we will work with you to figure out the details and find the flooring that best fits your needs.
Take advantage of our insightful design assistance, and you are sure to discover flooring solutions that fit your décor and way of life. Whether you are re-flooring a single room or your entire property, our team is with you at each step!
Professional Tile Flooring Installations for an Immaculate Finish
The strength, beauty, and longevity of your new flooring depend on a successful installation. Count on us to put on the finishing touches for you. Our professional installers will remove your old flooring and place your new flooring, all according to your schedule. We utilize the latest methods and demonstrate high-quality workmanship. As a result, you will reinvigorate old spaces and enjoy your new floors for years to come.
When you invest in a Flooring America product, you can sleep soundly knowing your new floors will last for years and come protected by our Adore Your Floor Guarantee. This is our promise of a quality installation, every time. If you are dissatisfied, just contact us and we will make it right on our own dime.

Contact us to learn more about our tile flooring options. We proudly serve Casselberry, Sanford, Apopka, Leesburg, Altamonte Springs, FL, and the surrounding communities.