Waterproof Flooring in Casselberry, FL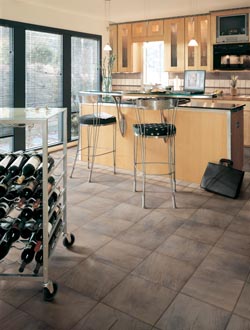 If you love materials like stone and carpet but hate worrying about water damage, come to our store and get that problem solved. We sell and install waterproof flooring in Casselberry, FL, in every color, pattern, style, and material you could want. Our stock includes floors from some of the top manufacturers in the country, all of which design floors to withstand the wettest conditions and heavy foot traffic too. We can make high-end floors available in any room and any home, even those with busy families and pets.
Our waterproof carpet especially is a dream come true for homeowners who have wasted too much time stressing over stains. With floors like these, spills simply aren't a concern anymore. A simple wipe or soak will do the trick; the liquid never reaches the subfloor and there's no danger of mold or having to replace your floor before its time. What could be better than flexibility and easy maintenance?
Stand Up to Water in Style
Materials like our waterproof luxury vinyl flooring aren't just good for withstanding water; they also complement and coordinate with your existing décor. You can pick from selections fashioned to favor anything from wood to ceramic and stone. This is the perfect way to create a look in spaces like kitchens or bathrooms that you normally couldn't. We can help you find a style that meets your needs in terms of waterproof performance and design.
Our professionals have abundant experience in helping customers navigate dozens of choices in color, style, texture, brand names, and many other flooring features. The right waterproof floors can raise your property value, which will be a big help if you ever decide to sell your home.
Enjoy Easy Maintenance with Waterproof Vinyl Flooring
Some homeowners may be hesitant to invest in nice new floors because they think it will involve a demanding cleaning schedule. We're proud to say that our waterproof floors only require quick and easy sweeping and mopping when the need arises—nothing more. Your pets and kids can run around and play without you ever having to compromise on a quality floor. Our stock is waterproof down to its core, so it won't expand, degrade, or rot regardless of where you put it or how wet it gets.
When you buy our waterproof vinyl flooring, you're getting both functionality and beauty, along with a soft feeling underfoot. We believe the two should always go together and are happy to work with you to find the perfect floor and install it for you with our team of certified professionals.

Contact us for beautiful flooring that doesn't get damaged by water. We welcome clients from Casselberry, Sanford, Apopka, Leesburg, and Altamonte Springs, Florida, and the surrounding areas.